Birds of Prey: Airbattle RAG #1 (PDF)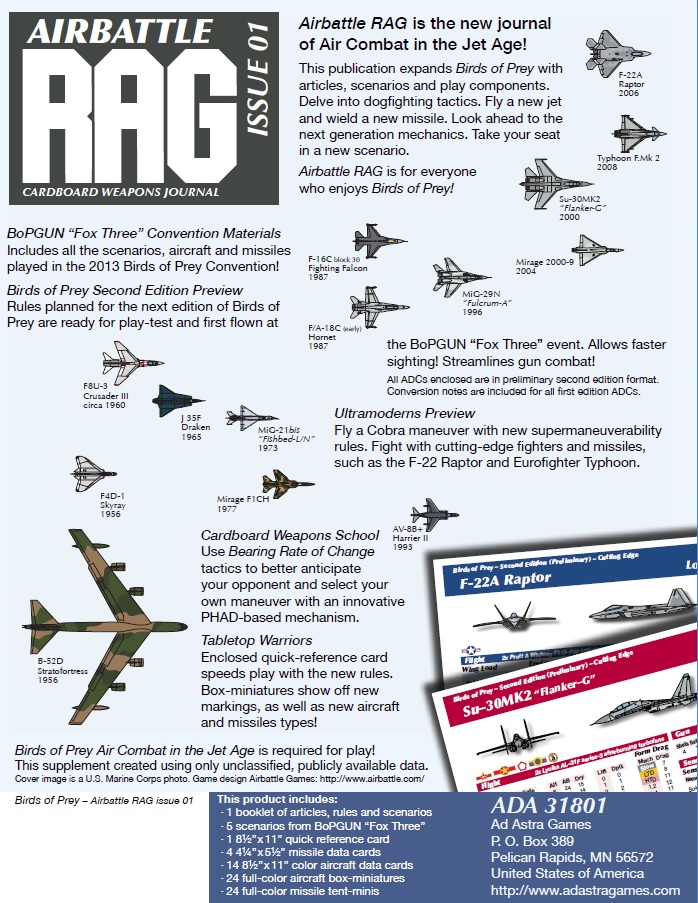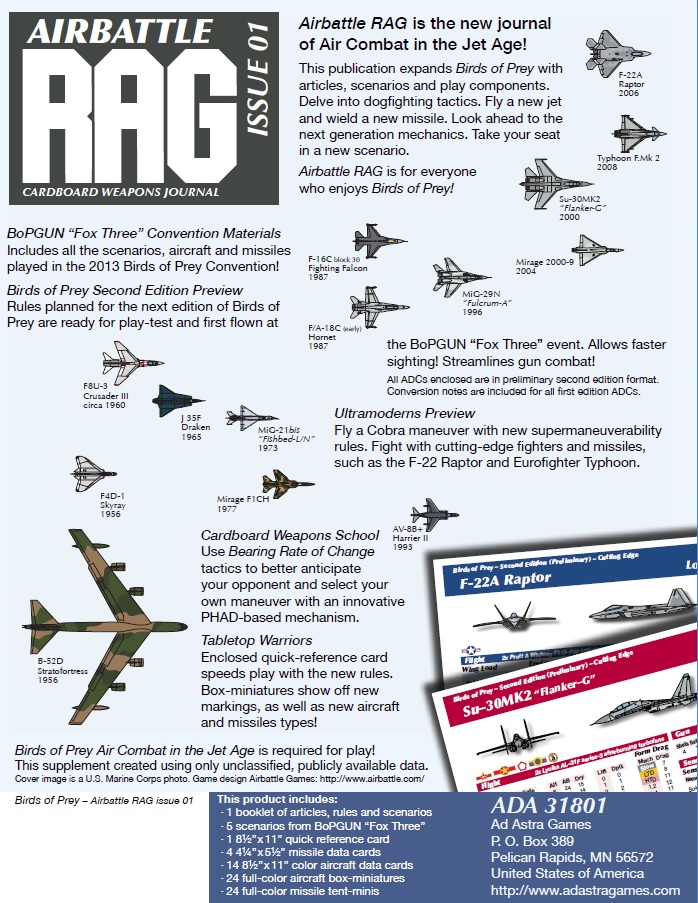 Birds of Prey: Airbattle RAG #1 (PDF)
Airbattle RAG is the new journal of Air Combat in the Jet Age!
This publication expands Birds of Prey with articles, scenarios and play components. Delve into dogfighting tactics. Fly a new jet and wield a new missile. Look ahead to the next generation mechanics. Take your seat in a new scenario. Airbattle RAG is for everyone who enjoys Birds of Prey!
 
BoPGUN "Fox Three" Convention Materials
Includes all the scenarios, aircraft and missiles played in the 2013 Birds of Prey Convention! Enclosed are previews of the upcoming Second Edition rules and Ultramoderns folio, plus two articles on dogfighting tactics.
Ultramoderns Preview
Fly a Cobra maneuver with new supermaneuverability rules. Fight with cutting-edge fighters and missiles, such as the F-22 Raptor and Eurofighter Typhoon.
Cardboard Weapons School
Use Bearing Rate of Change tactics to better anticipate your opponent and select your own maneuver with an innovative PHAD-based mechanism.
Tabletop Warriors
Enclosed quick-reference card speeds play with the new rules. Box-miniatures show off new markings, as well as new aircraft and missiles types!
Why "RAG"?
In U.S. Naval Aviation, the acronym RAG stands for Replacement Air Group, which are squadrons assigned to train aviators and maintenance crews on their fleet aircraft. The term "rag" also happens to be slang for a periodical publication. Liking the small word play, Airbattle RAG became our title!
This product includes:
1 booklet of articles, rules and scenarios

5 scenarios from BoPGUN "Fox Three"

1 8.5" x 11" quick reference card

4 4.25" x 5.5" missile data cards

14 8.5" x 11" color aircraft data cards
This supplement created using only unclassified, publicly available data.
Ten New Aircraft
Typhoon F.Mk.2 (Tranche 1)
F-22A Raptor
Mirage 2000-9
Su-30MKK/MK2 Flanker-G
MiG-29N 9.12SD "Fulcrum-A"
AV-8B+ Harrier II
Mirage F1CH
MiG-21bis Fishbed-N
F8U-3 Crusader III
F4D-1 Skyray
Four 2nd-Edition Updates
F/A-18C Hornet (early)
F-16C blk-30 Fighting Falcon
J 35F Draken
B-52D Stratofortress
Four Missiles
Mica-EM
AIM-120C-5 AMRAAM
RVV-AE "AA-12 Adder"
ASRAAM